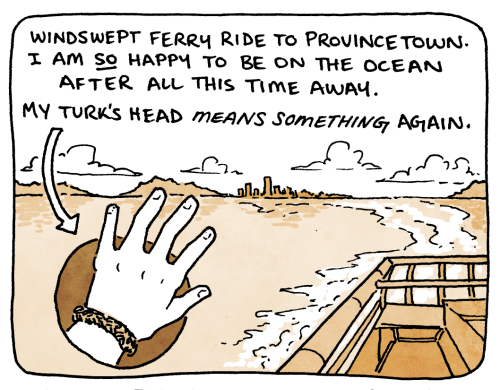 Greetings, friends! For those of you not currently involved in my Patreon page, I just wanted to put the official word out that I'm updating my Boston travelogue comic there with a new page every week for Patrons pledging $1 a month or more. There are several patronage levels that nab you a variety of perks, from PDFs of all my published work to a weekly behind-the-scenes post about what I've been working on, and enable me to focus more on telling these kinds of stories. Win-win!
The Boston travelogue comic serializes my recent trip aboard the Charles W. Morgan–an 1840s wooden whaling vessel–and blends the page-a-day travelogue style of Grand Adventure with the historical interests of Baggywrinkles. I'm really happy with how it's been coming together, and I'd love to share it with you early via this new platform. (The finished comic will be full color watercolor, but these sneak peek pages on Patreon are digitally toned.)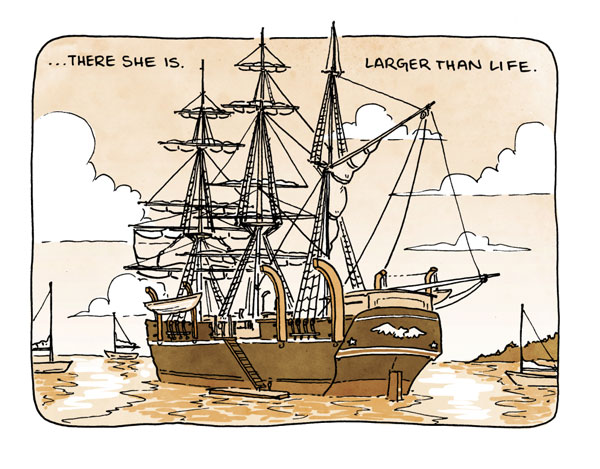 I'll also be having a solo show at Portland's Sequential Art Gallery in September to display all the original art from the journey. The opening reception takes place Thursday, September 4th from 6pm-10pm and I'd love to see you there. The completed print edition of the comic will be making its debut in full color at SPX later that month, too. You can check out my list of upcoming appearances on the lefthand side of this page for all Fall show dates!
See you on Patreon,
L