The other day I was wondering:

The featured snippet that came back at the top of the results rattled my brain for reasons I couldn't immediately identify.

When I clicked through to the site, long-dormant gears began shifting. It was clearly one of those Internet places that felt unchanged from the early 2000s—the kind of site Robin and I have been yelling enthusiastically at each other about of late—but there was something else. This place was familiar. I'd been here before.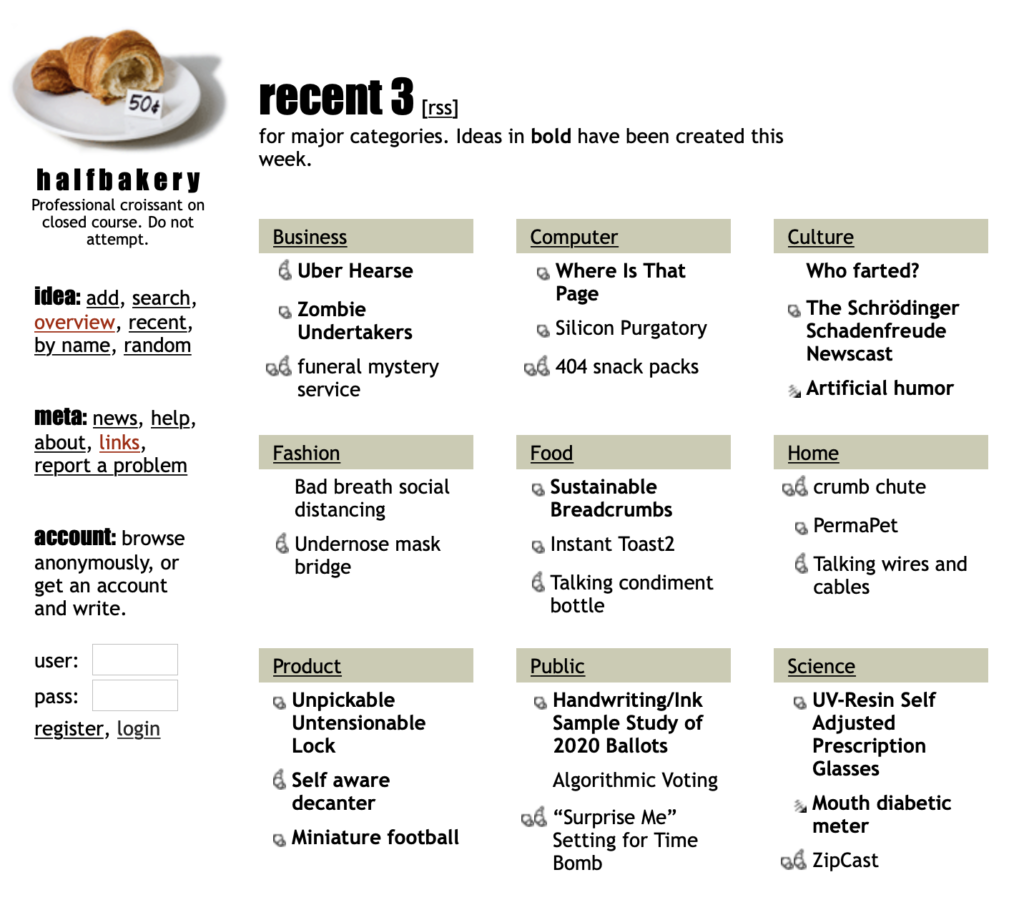 And then it started to come back to me.
I was a member of Halfbakery. Years ago. When? College? High school? If it was high school I was probably using my typical handle. I plugged it into the site's search bar.
My profile was still there.

I was 15. A baby, all things considered, and one hungry for people who would challenge and excite me. The site was one of those insular places full of smart, sharp users who had developed their own language and culture. Some parts of it, in hindsight, were a bit harsh, others erudite and thrilling. I'd posted two ideas which were roundly downvoted by the community at large, but I kept up as a reader. I won't pretend I went on to become a cornerstone of the community—because I didn't—but the site clearly stuck in my memory enough to feel familiar when I found it again.
The kicker isn't just that it's still going, but that there's been relatively little (if any) alteration to the interface since I first encountered it in 2005. I barely recognize Facebook if I log in after an absence of three months, let alone sixteen years. This felt like walking into my childhood bedroom and finding things exactly as I left them.
I poked around for a while, seeing ideas from 2006 and 2021 jostling shoulder to shoulder. Eventually I stumbled down a rabbit hole of in memoriam posts for members who had passed away.
Because that's what happens when you run a community for 22 years. Some of your users will probably die. And if you've built a sense of camaraderie and mutual regard, their absence will be felt keenly by a collection of strangers who never knew them anywhere other than this niche, textual space.
A little family in the wilderness. What an odd gem of a thing.