Okay, listen: I've been pretty consumed lately with barking up my own mental redwood tree about patronage and interdependent communities and what it means to try and support artists during late-stage capitalism, but this morning I got an email from my friend Luke Kruger-Howard that felt like turning around and realizing that this isn't just one goddamn redwood. There's a whole forest out there.
Luke's email (and it was an email, addressed tenderly to many friends, which is the kind of thing I love getting) announced a new physical publication (Goes #1), released under the aegis of a new publisher (Goes Books), but it stopped me in my tracks because there was something different going on.
He wasn't running a crowdfunding campaign. He wasn't encouraging people to preorder. He wasn't even asking for money.
Instead, I got to read this sentence:
This comic will be free for all readers, gifted by other anonymous readers along the way.
Hear that? It's the sound of my heart exploding.
The only encouragement in the email, beyond asking people to talk about it which, like, DUH OF COURSE HOW COULD I NOT TALK ABOUT THIS I WILL NEVER SHUT UP ABOUT THIS, is to sign up to receive a free copy of the comic in the mail. That's it. 2,000 copies of this new beauty are headed into the world and they will all be gifts. I already have so many questions! Is there a Mysterious Benefactor who financed the initial print run so that, potentially, every copy could simply be given away even if nobody chose to pay it forward? Or is there no initial capital beyond Luke's own savings and this is just a massive trust fall? Is it more or less of a trust fall than running a Kickstarter?
Whatever the answer, I've never rushed to give somebody $20 faster in my life.
In the delightfully-illustrated financial transparency page, Luke writes:
This is an investment in the relationship between artist and reader—between stranger and stranger. Financial profit is not possible here.
The comic will always be free.
The comic will always be free.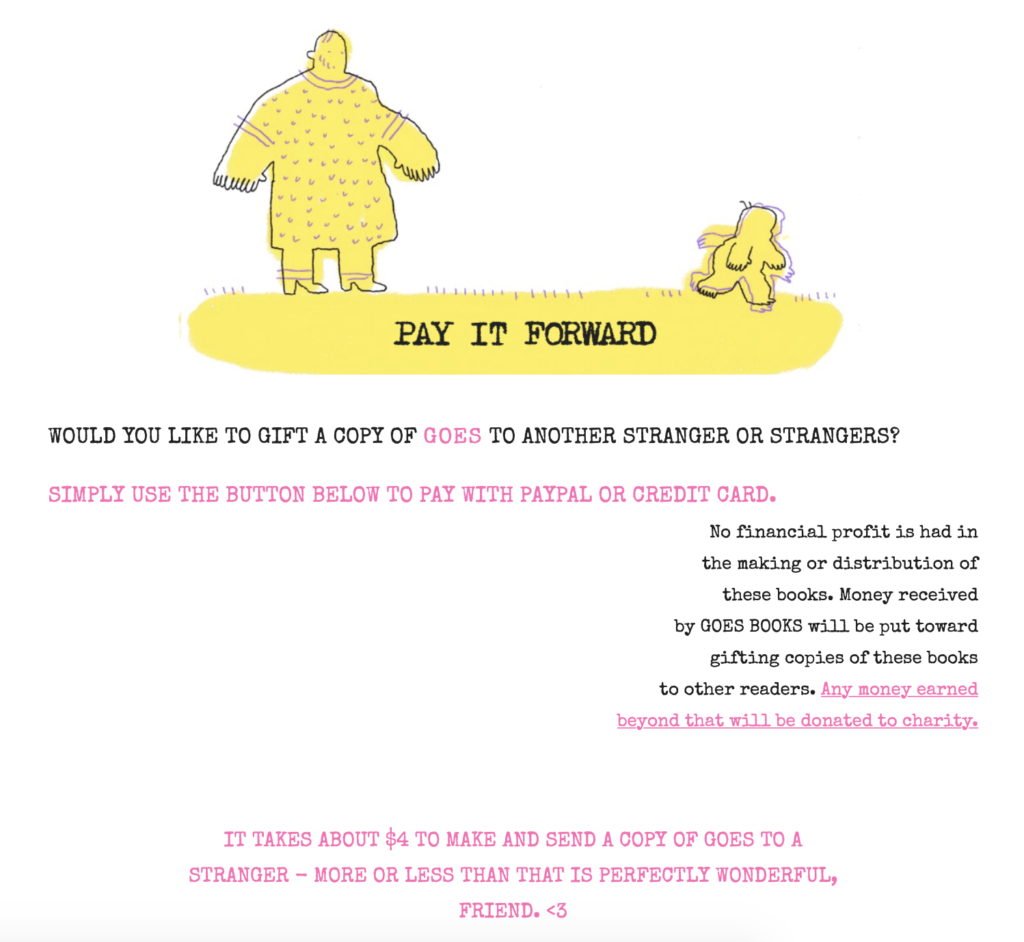 Oh yeah also P.S. any money raised beyond what's needed to pay forward all copies of the comic will be donated to RAICES. HELL YES TO THIS.
I'm going to save all the other yelling I want to do about this for Friday because you can bet your ass I texted Luke the moment I finished reading the email and begged him to sit down for an interview. If there are things you're interested in hearing us talk about, let me know.