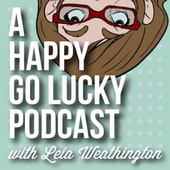 So much news this week! I had the delightful pleasure of being a guest on the Happy Go Lucky Podcast last weekend. The show is hosted by three of my favorite Portland people: Leia Weathington, Ben Coleman, and Jesse David Morgan, who deliver an hour or so of witty and (occasionally) enlightening banter every week. As Leia puts it in her (very accurate) episode summary:
Y'all gonna learn some shit about boats and what it's like to be on a boat wearing canvas pants and what it's like to draw comics about being on a boat in canvas pants.
We also cover my favorite bird of the moment (the potoo), the realities of plank-walking, sexual tension in Master and Commander, pirate re-enactors, pelicans on Portland transit, and purchasing expensive steak after having too much to drink on a Saturday night.
You can subscribe to the show on iTunes, or just listen straight through your browser!