This morning I woke suddenly in the dark, startled by something toppling in a gust of wind, and decided to get up. I very rarely regret being up before the sun. It's something my dad taught me to love, waking early to wash the previous night's dishes or listen to Satie at the kitchen table. Sometimes we'd go to the park and hit tennis balls back and forth on the empty courts, or walk around the block in the pitch black till my legs itched unbearably from the cold. Whatever we did, it always felt like secret, stolen time. A pocket of temporal spaciousness.
So, this morning, I got up and made tea and decided to curl into the armchair in the corner of the living room and use this particular pocket to read.
The Book of Delights by Ross Gay came very highly recommended. This is sometimes a deterrent because I'm the sort of nightmare person who stubbornly avoids things the more often I'm told to consume them, but in this case I'm glad I persevered.
The premise is very simple: a year's worth of daily essayettes on various sources of delight. The collection glows precisely because it isn't some kind of Pollyannaish litany. Instead, it captures the complexity of finding joy in a flawed world, and the particular necessity of claiming joy as a Black man in America. Gay's entries are full of digressions and caveats. He's constantly gesturing toward vast, complicated power structures with one hand while using the other to point at tiny, captivating miracles poking their heads out of the soil.
I love any piece of work that wrestles with the paradox of "and yet" and "even still," and this book is no exception. I love it because it doesn't demand that we wait to be pure enough for joy. It doesn't position a sense of a wonder as a commodity to be bought or earned. It doesn't disqualify people. Delight is simply there, in spite of it all.1
Two years ago I sat in Mother Foucault's Bookshop on a Saturday morning with the sun streaming through the windows and listened to my friend Anis perform his poem Today's Love Is Brought to You by the Letter Jon Sands. (You can probably hear me laughing in the background of this video. You can certainly see me crying in the background of another in the series from that morning.)
Hearing the way Anis says "I fucking love Black people" echoes the many celebrations that run throughout The Book of Delights.2 These two half-Black poets share a tender ear for the sublime and an irreverent sense of humor—the kind of sharing that makes me wonder if they've met.3 Their words flow into each other and elicit snorts and grins and also pangs of truthful recognition. Neither of them eschew the paradox of what it means to embrace delight in the world we live in—in the skin they live in—and I am so deeply grateful for it.
I stayed curled in the armchair for an hour or so, and when I was done reading the acknowledgements (one of my favorite parts of any book) and had breathed one of those happy, book-finishing sighs, I looked out the window and realized there was white frost sparkling on all the neighborhood rooftops, and that the sunrise had snuck up on me, and that it was January 20th.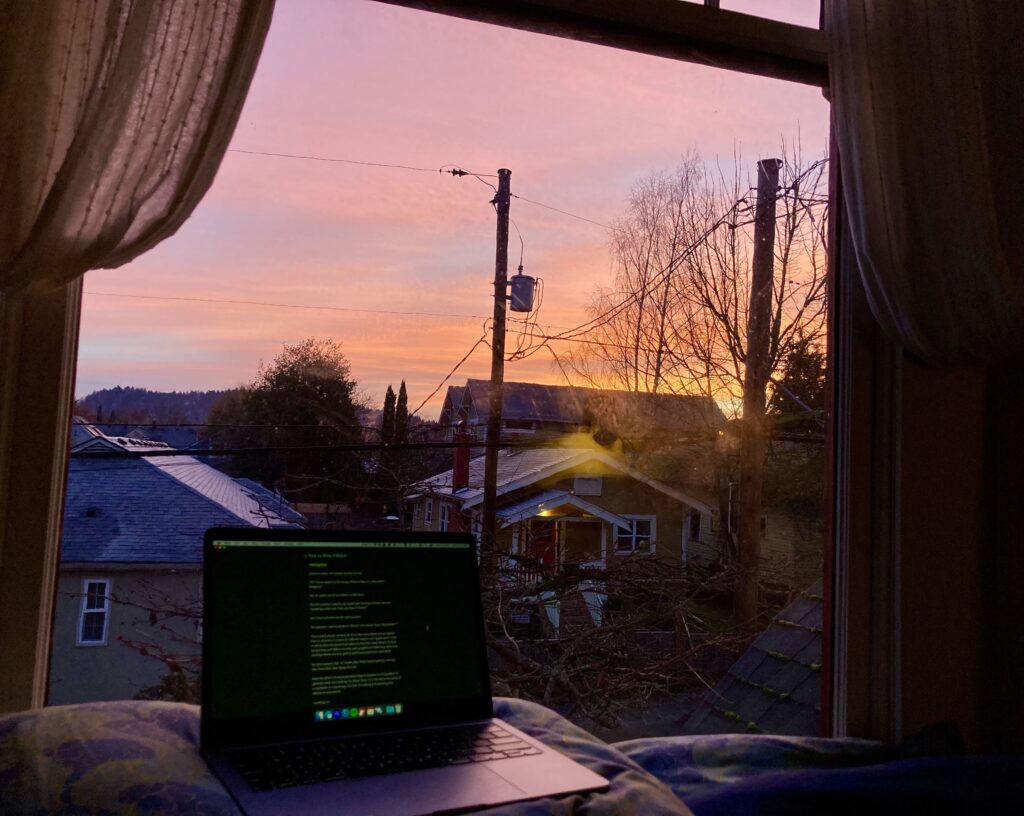 Happy new presidency, America.
1. "Wanna hear something terrible? Even here, at the end of everything, I still love it."↩
2. Which echoes the "black abundance" of Kiese Laymon's Heavy. And so on, and so on.↩
3. Yes, part of me also wonders if there's the sort of inexplicable friction we sometimes recognize as envy in this comparison. Occasionally people will refer to me alongside other creators whose work I admire and rather than feeling like a compliment it elicits a jab of petty resentment. But my friend Mara taught me that often what we envy in the other is an aspect of the self we haven't fully claimed yet, and you know what? I believe that. It checks out. Things have gotten better since I started noticing those tiny jabs and thinking "Yeah, okay, that's me too. I have that. Wouldn't notice it if I didn't."↩