It feels redundant to keep pointing wildly at everyone who's coming to similar conclusions about the instability of this online ecosystem right now—BUT—every time I find another person doing it I start yelling "YES. YES!" and do want to catalogue them in some way because these conversations are unfolding in many different spaces concurrently. It's not just cartoonists writing about being cartoonists. It's dancers and authors and comedians and zinesters and activists and journalists and musicians all pausing to look around and say, collectively, "What the fuck am I doing here?"
I'm thinking about comedian Bo Burnham's remarkable special Inside. About choreographer and quilter Marlee Grace's latest newsletter. Jia Tolentino's "The I in the Internet". Rain's documentary The Shopkeeper. Mara's "Sex, Husbandry, and the Infinite Scroll". How to Do Nothing. The Ones Who Walk Away from Omelas. I could go on.
Robin called the other day and mentioned that I seemed to have stopped blogging, to which I say: it's a fair cop. I was in Portland being consumed by my newfound ability to be close to other people and then I was moving and for the past ten days I've still been moving, but it's the shitty back-end part of moving that we don't talk about as much where you have to actually unpack and (in the case of this particular move) jettison decades of childhood ephemera from your tiny bedroom in order to make it a livable space for yourself as an adult.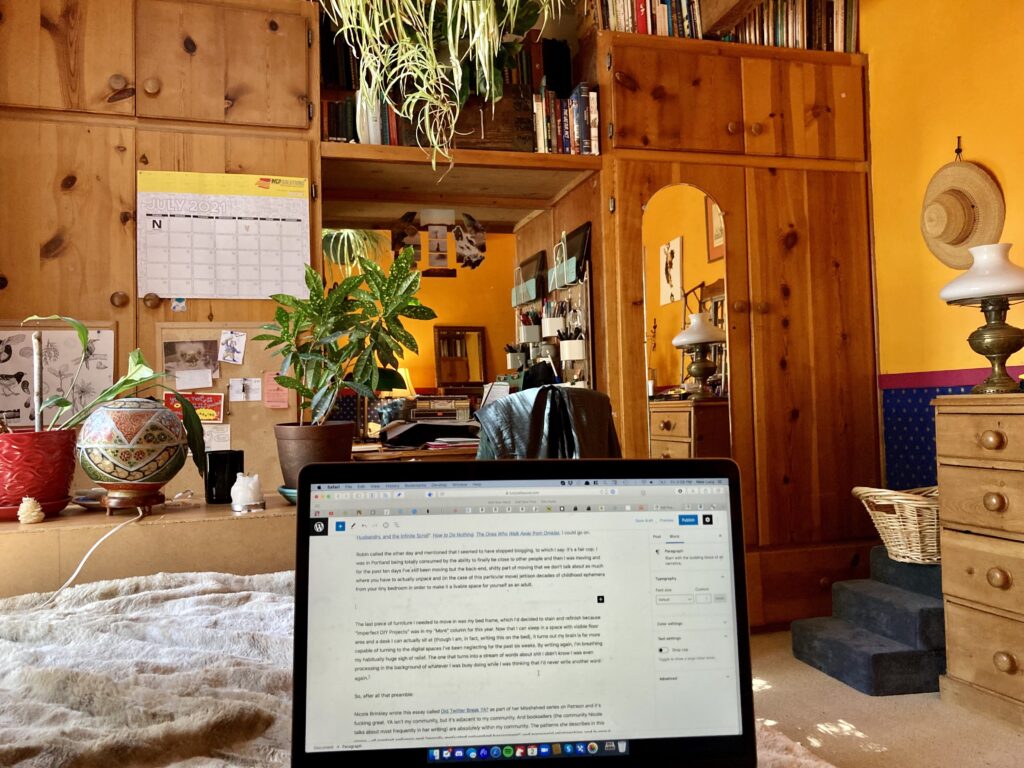 The last piece of furniture I needed to move in was my bed frame, which I'd decided to stain and refinish because "Imperfect DIY Projects" was in my "More" column for this year. Now that I can sleep in a space with visible floor area and a desk I can actually sit at (though I am, in fact, writing this on the bed), it turns out my brain is far more capable of turning to the digital spaces I've been neglecting for the past six weeks. By returning to writing, I'm breathing a habitual sigh of relief—the kind that turns into a stream of words about shit I didn't know I was even processing in the background of whatever I was busy doing while I was thinking that I'd never write another word ever again.1
So, after all that preamble:
Nicole Brinkley wrote this essay called Did Twitter Break YA? as part of her Misshelved series on Patreon and it's fucking great. YA isn't my community, but it's adjacent to my community. And booksellers (the community Nicole talks about most frequently in her writing) are absolutely within my community. The patterns she describes in this piece—of context collapse and "morally motivated networked harassment" and parasocial relationships and burnout—are patterns I know like the back of my hand.
There are so many nod-inducing moments, but this was the one that really made my blood run cold:
After all, access to authors is the real product—and if an author missteps, they're just a failed product. There are always more authors to fill that spot on the shelf.
Bluergh. Hurk. Ek. How often have I slipped into thinking of myself as a failed product on a shelf? Certainly every time I've stopped posting as often on Patreon, or expressed enthusiasm about doing a drawing challenge and then failed to follow through. Definitely in those moments when I think that if I just had a bit more energy and time I could start making content that would grow my following "in earnest". When I take two years to send a new installment of my newsletter. When I disappear.
But it's not just the disappearance. It's feeling of one's absence being invisible within the onrushing tide of Other People's Output. Remember that Drew Austin essay I linked a couple posts ago? He gets into it there, noting that "Every social media feed is an endless parade of these fragmentary identities, disaggregated into units of content and passing by quickly enough to evade the scrutiny that would detect their incompleteness." The incompleteness being that we are all also doing and contending with other things. We have to be. We're not just on Twitter 24/7—even people who seem as if they are.
This is the price of trying to succeed within the ecosystem of capitalism, and maybe it's also why I want to keep sharing here and here alone: I haven't contaminated this container yet. It gets to sit apart from everything else, just me and my thoughts.2
Earlier in the Pandemic Mara made a rare Instagram appearance, posting a series of text-based stories from her new home in Winthrop, Washington. I transcribed them immediately because, as with most things she writes and shares and speaks about, it sparked something in me that I needed to sit with for a long time.
I have so enjoyed every story and post by you all, dear friends. How does it work when I just observe you, and when to like/comment on what you make here is to feed an algorithm that watches and profits off of our affection? I don't do it because it feels…violent?…to us. This platform is very hard for me. Thank you for understanding. It pales in comparison to being near you. The simulacrum of closeness feels nauseating. I know we are killing something important in the process of creating connection. I want you to walk through the door, for us to play. You're all here always.
This is it—the heart of the thing. We chase engagement as if it's the Holy Grail, and yet to play the game on any level means we've already lost. There are so many people I can think of who I've finally been able to see and embrace and laugh with over the past month and attempting to get that through social media does pale in comparison. The simulacrum is nauseating.
This handful of broken online platforms can't be everything.
Past a certain point I don't want to spend my time cataloguing people's writing about this—or generating my own—because (and this is the curse of the over-informed over-thinker) I know it all already. I know it in my bones. I may not have the right terminology for it, but I can feel it. I fear I am admiring the problem, thrilling to ever more accurate descriptors that tell me precisely how and why I'm locked in this unfulfilling spiral, rather than taking steps to change my behavior.3
As Tolentino points out, "The internet reminds us on a daily basis that it is not at all reward­ing to become aware of problems that you have no reasonable hope of solving."
But Nicole is ready for that.
[…] I do not want to wear the armor of cynicism. I do not want to be trapped in the ouroboros of perfection just because the community I interact with demands it.

So here is what I will say to you, dear reader: You do not have to participate in this cycle.

The system is broken, but the system can be abandoned.
In addressing this head-on, she wins my heart.4 She admits that the piece started out as one thing and then turned into another. She describes the trajectory it might have taken had she chosen to focus solely on the issue of where actual teenage readers sit in the modern YA landscape, and then she recognizes that this is really a conversation about so much more. (I will never stop loving this pattern, wherever I encounter it.)
The Fake-It-Till-You-Make-It School, the Grit School, the Capitalism School—they all urge us to keep producing and grinding and persevering, trusting that clarity will come from more work (even if that work, at its core, is purposeless, unfulfilling, or even actively harmful). With no time to reflect or catch our breath, we feel we have no choice but to trust the systems we're given, to push and push and push until we "break into" the spaces that are communally regarded as desirable, and then fight like hell to keep that power safe because don't you know this is a landscape of scarcity? There's only so much to go around.
When I think about the last year, I don't think about pushing. I think about waiting.
I had to wait. I had to wait a long, long time. In some ways I'm still waiting.
So when Nicole says:
These days it's okay to not be sure what Twitter is for. We can stop going there until we figure it out.
It feels like permission.
It makes my soul exhale.
"I don't feel good when I'm here" is enough of a reason to leave. Even if the places I wish I could stay—or the people I wish I could stay with—sometimes bring me connection and joy and validation and money and, yes, even love. If my gut tells me that I am not, at baseline, nourished the way I need to be: I can walk.
That's the new rule.
Thank you, Nicole.
1. I'm also kind of glossing over the fact that my obsessive nesting has masked a deeper discomfort with having to face the true emotional cost of this transition. That's a conversation for another time. But, as my therapist reminded me: this grief is chronic, not acute. Avoidance is a tactic we use to survive ongoing adversity. It's not inherently evil. ↩
2. Also, just a general side note in relation to all this: how often have I shared something like Nicole's essay on Twitter or Instagram with the caveat "I'm fully aware of the irony of sharing this here, but…"? I want to stop doing that. If I'm reading something about how fucked it feels to still be on a certain platform and it resonates with me, I WANT TO TALK ABOUT IT SOMEWHERE OTHER THAN THAT PLATFORM. (I am yelling at myself here because this is a footnote and that's what they're for, I think.) ↩
3. Whoops this is the moment I realized that this essay is also about my historical approach to relationships. Surprise! ↩
4. She also reminds me of this stunning essay from adrienne maree brown about disrupting patterns of harm that specifically target Black women within movement work. I'm due a re-read because I haven't stopped thinking about it for months. ↩