On April 16th, 2018, a friend of mine began a 100 Day Project—a collection of self portraits in ink, framed as a meditation on gender.
The tiny illustrations began to pile up: two weeks, 100 days, a year.
They kept drawing.
At 862, they stopped sharing to Instagram, but said they would probably keep going in private. (We love to see it.)
And then, a couple days ago, a text:

I asked how they were feeling about the milestone.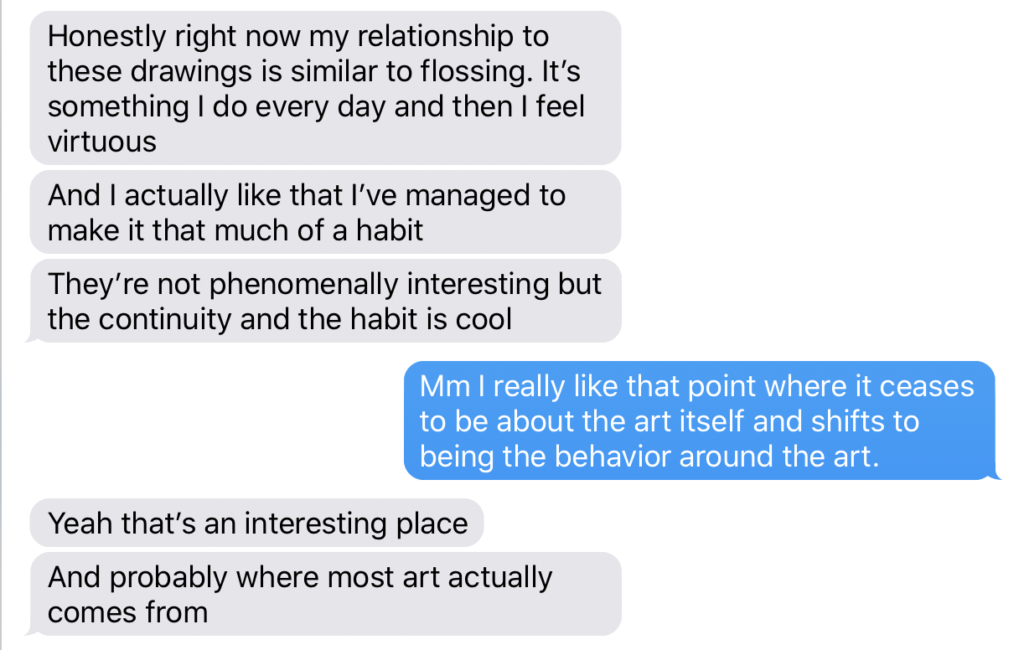 And now I'm laughing thinking about Benoit Blanc and donuts, because this is how I feel at moments like this—screenshotting a perfectly normal text conversation because something about it makes me think "HANG ON".
Not the art, but the behavior around the art.
A donut! One central piece, and if it reveals itself the fog would lift, the arc would resolve, the slinky become unkinked…
It feels right, at least in relation to my own practice, which is often very much predicated on rules and rituals. (30 Days of Portraits. 100 Demon Dialogues. 1000 words a day.)
These are all projects where the structure of the undertaking supersedes the content. Fixating on the satisfaction of completing another link in the chain allows my less-than-perfect artistic skill to slip past the Watcher at the Gate undetected. Success is defined as adherence to the practice, not excellence in the craft.
The joke, of course, is that they're one and the same.