There's a paragraph from Twyla Tharp's The Creative Habit that lodged firmly in my brain when I first read it in college. (I loaned my copy of the book to a friend years ago and it was only recently returned it to me, so this is the first chance I've had to go back and reread it in a long, long while.)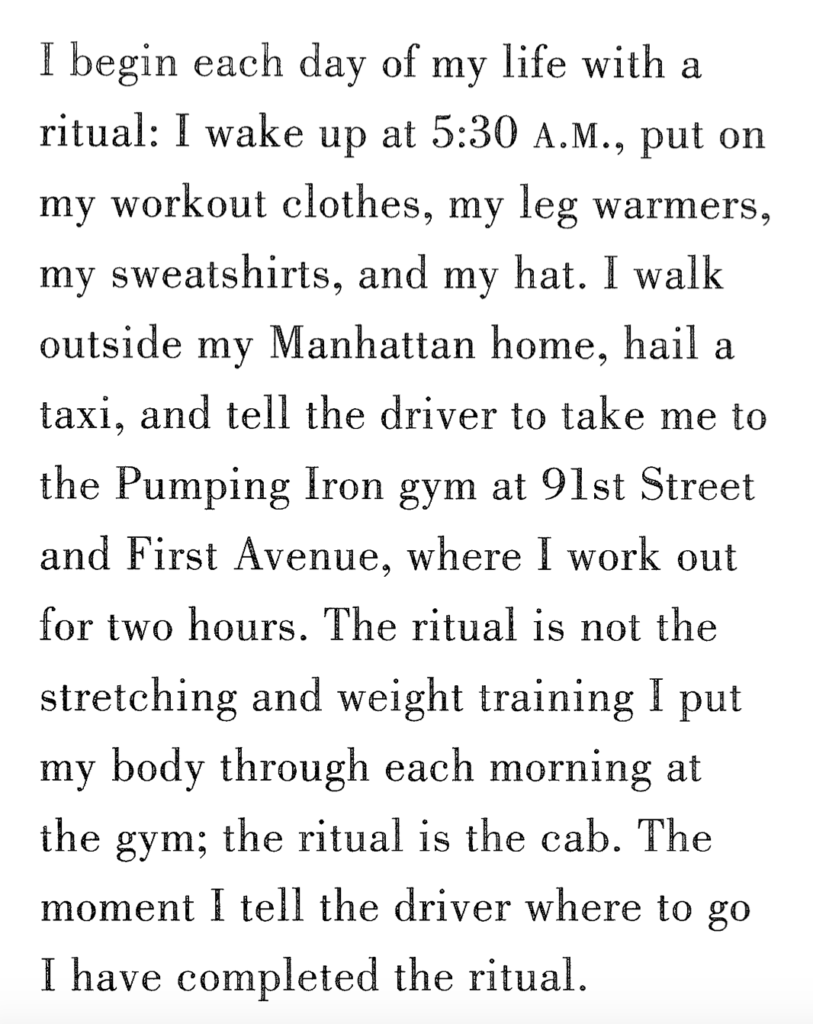 THE RITUAL IS THE CAB.
Eh-hem. Anyway. She goes on:
Turning something into a ritual eliminates the question, Why am I doing this? By the time I give the taxi driver directions, it's too late to wonder why I'm going to the gym and not snoozing under the warm covers of my bed. The cab is moving. I'm committed. Like it or not, I'm going to the gym.

The ritual erases the question of whether or not I like it. It's also a friendly reminder that I'm doing the right thing. (I've done it before. It was good. I'll do it again.)
This bit at the end! The question of "whether or not I like it" immediately countered with the truth that if this ritual is something I have built that will carry me towards things I have decided are meaningful to me, then it will automatically be the right thing.
But even when the right thing has proved, time and time again, to be rich, pleasurable, surprising, rewarding, and thrilling, I still have a brain that fixates on the times it is not. Sometimes it is infuriating, terrifying, or disappointing (although almost always those feelings come at the start, not during the act itself—or after the finish). I latch onto the negatives, drowning in avoidance, believing I can think my way around them.
Tharp's model requires a clear-eyed statistician's view—an assessment of the facts. And the fact is I feel good about the act of creation far more often than I feel bad about it. The ritual becomes a method of tipping over the edge into that inexorable slide—the point where it would be far more work to turn back than it is to go forward. The point where you can't help yourself.
This is the mantra I need going into my next project, quaking in my boots because it all feels new and beyond my capacity or control:
I've done it before. It was good. I'll do it again.