So this is something of a new game for me: in a few weeks I'll be speaking on a panel of creators as part of a Massive Open Online Course (MOOC) run by MakingComics.com. The CEO, Patrick Yurick, was actually at CCS the same summer I went through my Comics Conversion and started doing this stuff for living, so it's pretty neat to see where the two of us have ended up after four years.
The course is free and open to the public, with a pretty minimal time commitment and a rockstar line-up of creators ready to talk about four key topics as each week of the course goes by. It's like a panel discussion where you can log in and ask questions in real time. The course is perfect for those of you looking to launch a comic or learn more about the process of going from idea to finished product.
Here's the flier for the week I'll be participating: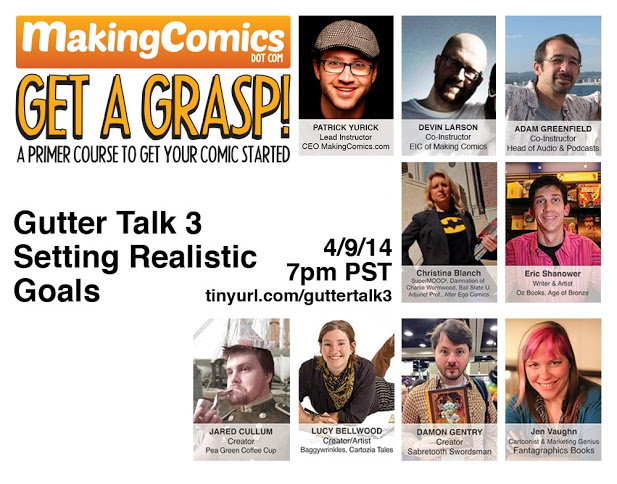 Look at all those cool dudes! We're gonna get technical up in this business — motivational techniques, time management, maintaining momentum oooooh yeahhhhh. However! To attend the talk you'll need to register for the course (again: FREE) before this Saturday. If you'd like to learn more before you register, or take a gander at the other weeks' guests, click here — there's a great FAQ about how the MOOC is structured and run.
Hope to see you online April 9th! And be sure to register this weekend to participate.