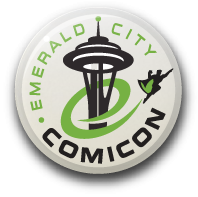 Okay gang, sorry for the suuuuper short notice, but it looks like I'll be tabling at Emerald City Comicon this weekend! The show runs Friday, Saturday, and Sunday and boasts the biggest attendance of comics and pop culture stars in the Pacific Northwest. To give you an idea of just how massive this party's gonna be, here's a map of the Periscope Studio table block, where I'll be squished in between Paul Guinan & Anina Bennett and Jonathan Case.

Yeah, that's right. You have to cross a SKY BRIDGE to get to us. How cool is that?
Tickets are actually sold out, so if you're already planning to go to the show, be sure to stop by table 2621 and say hi! I'll have Baggywrinkles 1, 2, and 3, True Believer, Tales from the Fragment, Ladies' FIGHT FOR YOUR ART shirts (sorry dudes, sold out of yours), button packs, mini prints, monkey's fists, and some crazy little animal watercolors for your perusal, purchase, and enjoyment.
Hope to see you there!