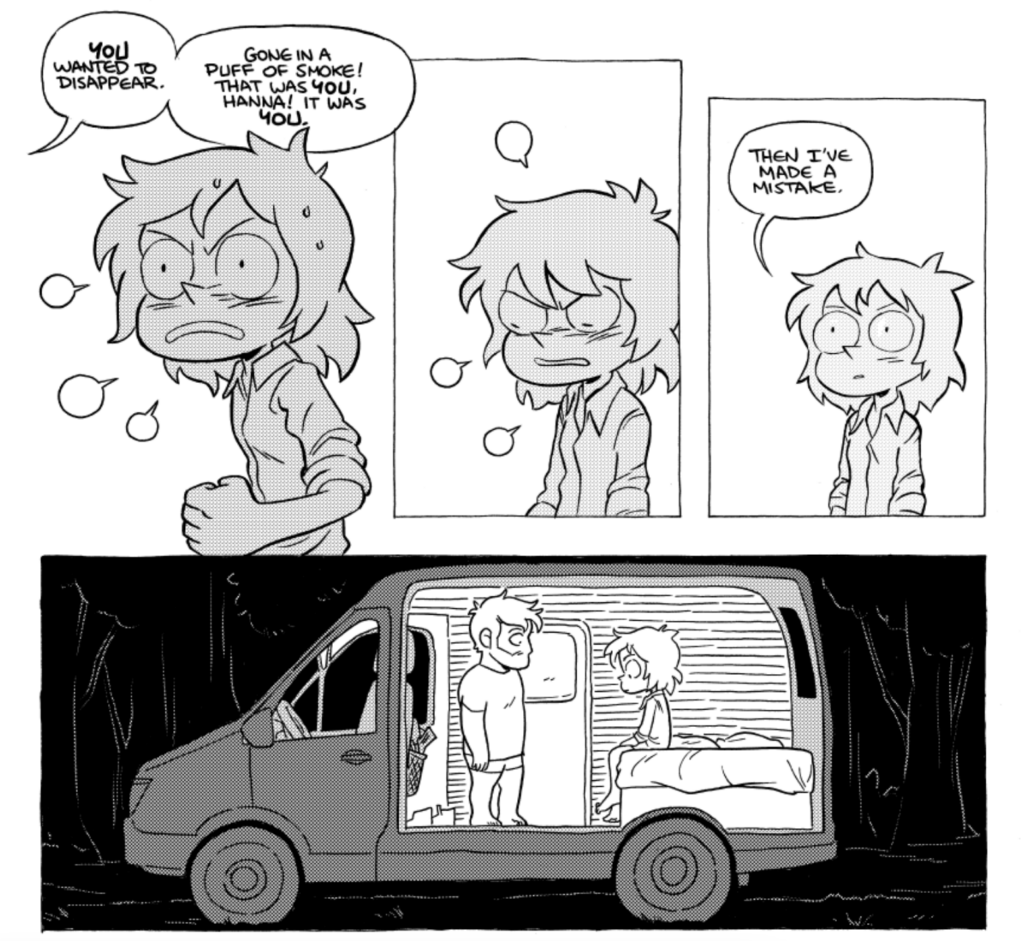 I didn't always keep up with Octopus Pie during the ten years Meredith spent making it regularly, but every time one of these standalone followup stories comes out, I'm blown away. Seeing webcomics creators approach characters they first started crafting in their 20s with the added life experience of becoming 30-somethings is just…it rules. It's magical to see characters age as we age, becoming concerned with the types of life transitions and regrets and hopes that meet us with each passing decade.
And even beyond the content: THE STORYTELLING! I yelled when I saw these three panels because they're magnificent. The tones, the panel borders, the scale, the expressions—all of it comes together to create this perfect denouement after a raging argument. And the van? The fuckin' long shot crafted from a tiny space that shouldn't by any rights work the way it does but it works so well??? I love seeing things like this. I miss seeing things like this.
I hear people talk about missing webcomics because Google Reader died, but the truth is there's still plenty of RSS reader technology out there. There are more webcomics than ever. So why do I still fall prey to that feeling? Is it that I don't have what it takes to invest in new stories or characters? That the selection has gotten too overwhelming? That I spend all my time making comics so I can't relax by reading them anymore?
I'm not sure. I just know that reading this reminded me of what it felt like to be a kid in college with a bookmark folder of ten different stories I would gladly immerse myself in every day of the week, week after week, year after year. Stories that made me think I could do this too. Stories made by people who became my colleagues and friends.
Stories that it's nice to return to every now and again, just to peek through the window and make sure everyone's doing okay.