The landing outside our bedrooms is tiny—barely big enough for one person to stand alongside the single floor vent that's supposed to heat the entire upstairs. But! There's enough wall space for two tall pieces of paper, so that's where Zina and I have kept our reading lists since 2015.
I've never really gotten into tracking my reading online, so this practice has served as my visual archive of books devoured. It's a lovely way to remind myself of when influential authors first appeared in my life, and to lend shape to the years. I used to keep the old ones pinned up in my room for easy access, but my impending move has meant getting rid of a lot of papery ephemera, so here they all are for posterity: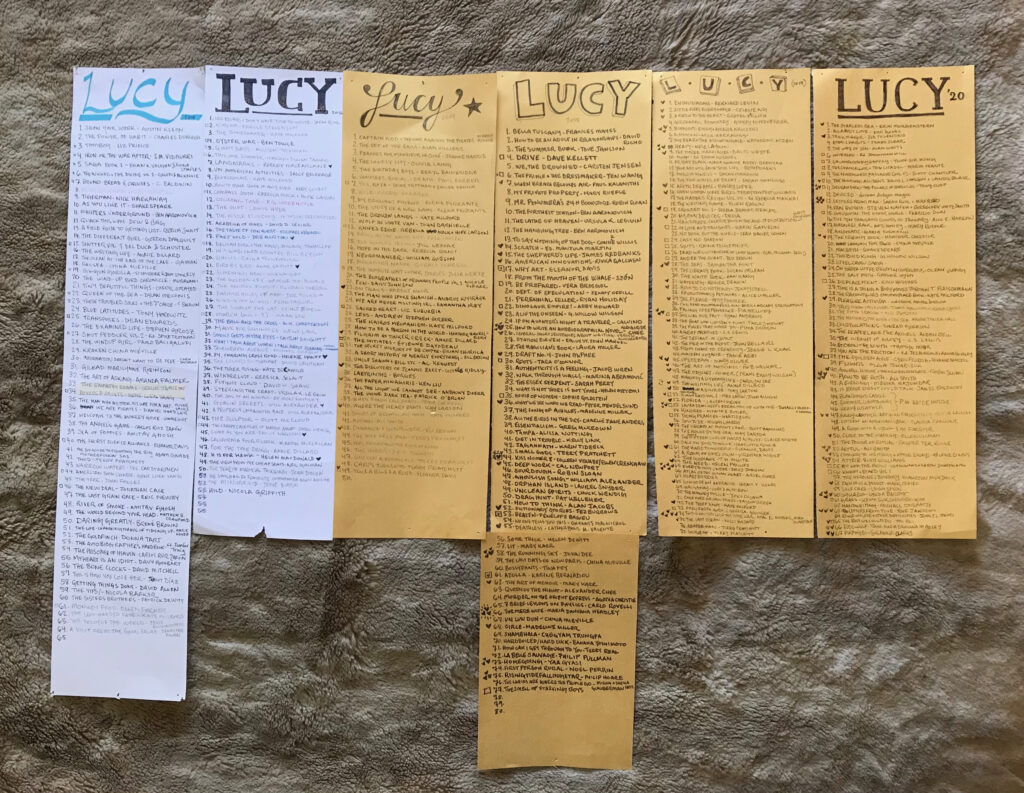 Since I'm trying to keep more of myself on my own site, I figured I'd upload the whole catalogue from 2020 as a blog post. I'll do a followup with a little more about my absolute favorites, but for now: here's everything.
Legend

Rough Guide to Ratings

🎭 – Plays
📝 – Poetry
📖 – Books (Fiction)
📓 – Books (Nonfiction)
💬 – Graphic Novels
❤︎ = Yes
❤︎❤︎ = Oh Yes
❤︎❤︎❤︎ = Hell Yes
📖 The Starless Sea – Erin Morgenstern ❤︎
📓 All About Love – bell hooks
📓 Trick Mirror – Jia Tolentino ❤︎❤︎
📓 Atomic Habits – James Clear
📓 The Way of Zen – Alan Watts
💬 Unversed – Ed. Jonathan Hill
💬 Uncomfortably Happily – Yeon-Sik Hong
💬 The Chancellor and The Citadel – Maria Frantz
💬 The Northwest Passage (Vol. 1) – Scott Chantler
💬 The Hunting Accident – David L. Carlson & Landis Blair ❤︎
💬 Delilah Dirk and the Pillars of Hercules – Tony Cliff ❤︎❤︎
📓 Deviced – doreen dodgen-magee
📝/📓 Letters from Max – Sarah Ruhl & Max Ritvo ❤︎❤︎❤︎
📓 Van Gogh – Steven Naifeh & Gregory White Smith ❤︎
💬 Gaugin: The Other World – Fabrizio Dori
📖 The Ten Thousand Doors of January – Alix E. Harrow
📓 Madness, Rack, and Honey – Mary Ruefle ❤︎
📖 Axiomatic – Maria Turmakin
📓 The Crying Book – Heather Christle ❤︎❤︎
📖 Looking for Jake – China Miéville
🎭 Macbeth – William Shakespeare
📖 The Bird King – G. Willow Wilson ❤︎
📖 Steel Crow Saga – Paul Krueger
📖 On Earth We're Briefly Gorgeous – Ocean Vuong ❤︎
📓 The Salt Path – Raynor Wynn
💬 Displacement – Kiku Hughes
📓 Time is a Thing the Body Moves Through – T. Fleischmann
📖 The Raconteur's Commonplace Book – Kate Milford
📓 Pleasure Activism – adrienne maree brown ❤︎
📖 Tales from 1001 Nights – Trans. Malcolm & Ursula Lyons
📖 The Fifth Season – N.K. Jemesin
📖 The Mermaid, The Witch, and The Sea – Maggie Tokuda-Hall
📓 Constellations – Sinead Gleeson
📖 The Reapers are The Angels – Alden Bell
📓 The Weight of Glory – C.S. Lewis
📖 Gideon the Ninth – Tamsyn Muir
📖 You Are the Friction – Ed. Jez Burrows & Anna Hurley
💬 The Golden Age – Cyril Pedrosa & Roxanne Moreil ❤︎
📖 Flights – Olga Tokarczuk
📖 Annabel Scheme and The New Golden Gate – Robin Sloan ❤︎
📖 How to Be Both – Ali Smith ❤︎❤︎❤︎
📖 A Burning – Megha Majumdar
📖 If Beale Street Could Talk – James Baldwin
📖 Blandings Castle – P.G. Wodehouse
📖 Summer Lightning – P.G. Wodehouse
📖 Heavy Weather – P.G. Wodehouse
📓 Funny Weather: Art in an Emergency – Olivia Laing ❤︎❤︎
📝 Citizen: An Americal Lyric – Claudia Rankine
📖 A Room with A View – E.M. Forster ❤︎
📓 Close to the Machine – Ellen Ullman ❤︎
📓 The Power of Ritual – Casper ter Kuile
📖 Artful – Ali Smith ❤︎❤︎❤︎
📓 Coming to Writing and Other Essays – Hélène Cixous ❤︎
📖 Attrib. – Eley Williams ❤︎❤︎❤︎
💬 Go With The Flow – Lily Williams & Karen Schneemann
💬 Knight and Beard (Vol. 1) – Tara Kurtzhals & Sarah Bollinger
📓 The Heroine's Journey – Maureen Murdock
📖 Each of Us a Desert – Mark Oshiro ❤︎
📖 Self Care – Leigh Stein
💬 Syllabus – Lynda Barry ❤︎❤︎❤︎
💬 Grass – Keum Suk Gendry-Kim
📝 Handwriting – Michael Ondaatje
📓 Letters from Tove – Tove Jansson ❤︎❤︎❤︎
📝/📓 Rilke on Love and Other Difficulties – Trans. John J.L. Mood
🎭 The Tempest – William Shakespeare
💬 The Best We Could Do – Thi Bui ❤︎
📝 Beowulf – Maria Dahvana Headley ❤︎❤︎
📝 The Rime of the Ancient Mariner – Samuel Taylor Coleridge
📖 Piranesi – Susanna Clarke ❤︎❤︎
📓 A Reading Life – C.S. Lewis
📓 Better than IRL – Ed. Katie West & Jasmine Elliott ❤︎
📓 Split – Ed. Katie West & Jasmine Elliott
📖 The Waves – Virginia Woolf ❤︎❤︎