I haven't historically been someone who reads a lot of books simultaneously, but I won't lie: it's doing a lot for me right now. My brain is scattered and anxious and burnt out and overwhelmed and uncertain, but allowing pattern recognition to come into play as I'm reading across genres and timescales…that I can manage. It helps things feel as if they make sense.
Of course, sometimes the patterns I recognize are massively uncomfortable. Here's three about habit, practice, belief, and enthusiasm:
Julia Cameron's The Artist's Way: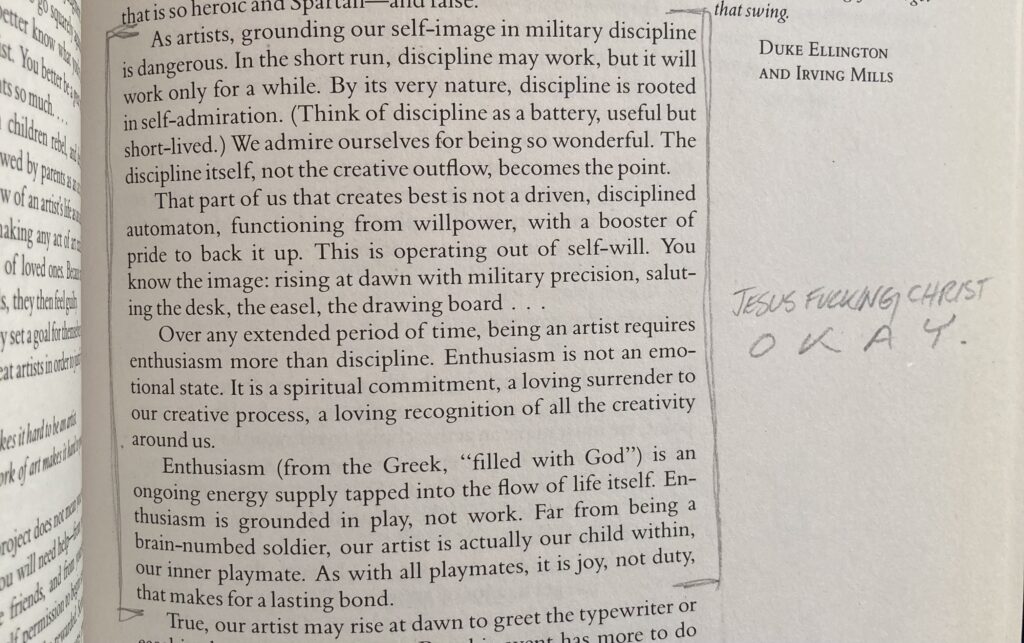 Terry Pratchett's Small Gods: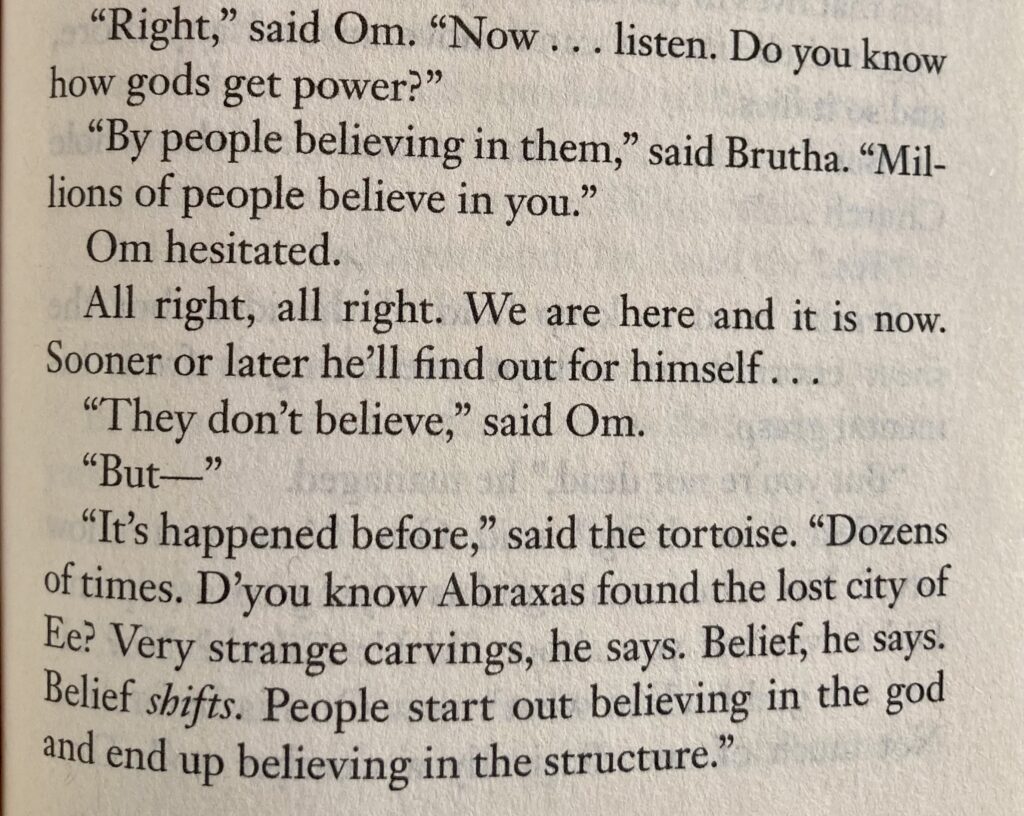 Fenton Johnson's At the Center of All Beauty:

I think I've listed these in the order I encountered them, but I can't be sure. I just know I read the Cameron passage and felt personally attacked in that good, awful way that means something true is surfacing. I love daily drawing challenges. Arguably I've built a whole career on them. But I also, deep down, know that they can become a kind of ego trap. Fortunately there are all these other rhyming passages that offer alternative paths and approaches. Johnson underlines a truth I've already folded into large parts of my brain: that there's a fundamental difference between a habit and a practice.
---
Bonus Kicker: I read Zina that passage from Cameron and she immediately latched onto the etymology of enthusiasm. "Did you know?" she asked. And I had to reply that I did, because there's a phrase rattling around in my brain:
"The Greeks said that to be enthusiastic was to be filled with God."
Why do I know this? Why do I know it with this specific wording? It feels like something I know through repetition, like I've heard it read aloud many times or included in a talk. I dig around in the filing cabinets of surface memory and find nothing.
At 11:30 that night I finally find it: a single quote pulled from a series of small stories written by Frank Chimero in, as far as I can tell, 2010. I'd written it down in 2016 in an old notes document where I kept links and things to include in my newsletter. A quick spin through the archives suggests that I never actually wove it into an update, but every time I went to write one I'd skim through that list of quotes and links and there it would be: a phrase.
I suppose this is how we learn.