Hold onto your halyards, Portland—we're throwing a Baggywrinkles party this week! I've been counting down, and the day is growing closer…

Following last year's fabulous Kickstarter campaign, Baggywrinkles: a Lubber's Guide to Life at Sea is about to hit comic shops and bookstores around the world, so let's celebrate the official release with a bit of rumbustification at Floating World Comics on September 1st from 6-10pm. Here are the details: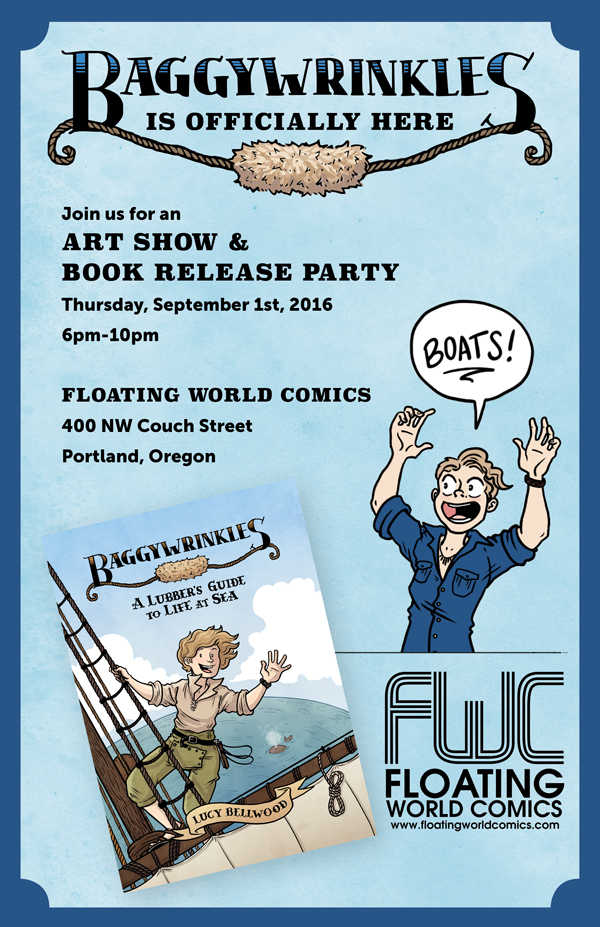 We will have: DRINKS (BOOZY AND NOT-SO-BOOZY)! SNACKS! SPARKLY NAUTICAL TEMPORARY TATTOOS! COPIES OF THE BOOK! PEOPLE IN COSTUME! ORIGINAL ART! SCURVY!
Want to RSVP through Facebook? You can do that here!
If you got a copy of the book through Kickstarter and would like me to sign it, bring it along! I would love to give you a hug or a high five to say thanks for making this possible. If you can't make the party, but would still like to get your hands on a copy of the book, you can order the softcover from me here.
Once again, the details:
WHO: Lucy Bellwood
WHAT: Baggywrinkles release party and art exhibit
WHEN: Thursday, September 1, 6-10pm
WHERE: Floating World Comics, 400 NW Couch St. Portland, Oregon
Hope to see you there, friends!