I thought the Waterlogged IndieGoGo campaign was going to be the most exciting news of the week, but it turns out there are more goodies in store!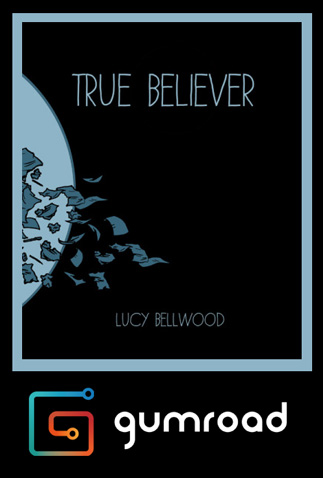 You can now acquire True Believer, my breakout comic from last year, as a high-quality digital download via Gumroad. I'm excited about this for a number of reasons, not least of which is Gumroad's elegant sales system. The base price for the download is $3, but you can pay more if you really enjoy it and/or want to help me keep making comics with more of a boost. You'll receive the full 36-page story via immediate download, plus a link in your email in case you lose track of it in the future. Gumroad is excellent because you can also revisit the site and it will remember your purchases, so you can download it again if your email explodes or something equally horrific.
Basically, once you buy this thing you'll never be able to get rid of it. Hooray!
For those of you who weren't around when all this happened, True Believer is the story of why I got into making comics for a living in the first place. It's an origin story, an homage to teachers past and present, and a treatise on creativity all rolled into one. While I have plenty of print copies still available from the massively successful Kickstarter campaign, it's always nice to have more options. If you have questions about Gumroad or issues with your download, don't hesitate to let me know, otherwise: have at it!