Cross-posting from Patreon because I want to keep this stuff on my site, too. CW: this post talks about an ER visit, elder care, and grief.
Two days ago I was trying to explain to a partner how intense being a caregier is despite there not being very much "action". My dad is stable. He doesn't have a clear timeline. I just know that he is old, and often confused, and needs my help.
Yesterday that looked like agreeing to take him to The Farmer & The Cook, the local venue where the collage pieces we made together have been hanging for the last six weeks. That's where I took this photo. He misses being out and about every day, greeting his public, watching people going about their business. It's one of the things I struggle with most: I want him to be safe, and I also want him to be happy.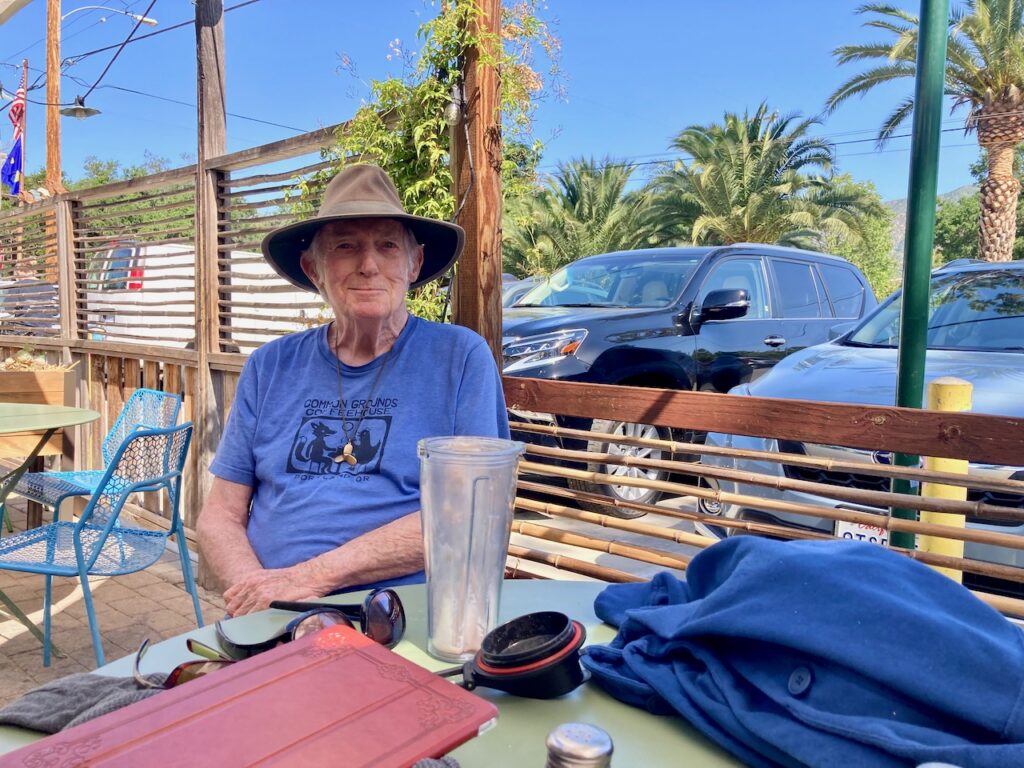 It was set to be a scorcher, so I made extra sure he'd had breakfast and his smoothie before we left the house, tried to get there early in the day, parked him in the shade.
But maybe I jinxed it, talking about there being no action, because ten minutes after I took this photograph he had an episode—slumped over, drooling, unresponsive. His dentures slid out of his mouth one after the other in a slow-motion horror show I'll never forget. I kept hoping he'd snap out of it but he didn't. Someone got me ice. I found myself wondering if his insurance would cover an ambulance. I didn't know what to do. I called my mum to come join me and asked her to bring the walker, because we'd gotten him into the car with the walker on other occasions when he got wombly, but in this instance it was totally laughable because the man was clearly unconscious.
He was gone.
She arrived, took one look at the situation, and called 911. I just kept holding his shoulders, patting him down with ice, trying to bring him round. It is awful to feel so useless in the face of a crisis. I knew he needed to drink water but he couldn't drink. How was I supposed to get him to drink?
He looked so small when they put him in the ambulance.
Driving the half hour to the hospital on the tail of the paramedics, there was no way to know what we were in for. Would he be paralyzed? Would he be dead? Would he remember? Would he be fine?
There's a sick sense of relief bound up in an episode like this because we understand acute crisis. I can talk about "hospital" and "collapse" and "emergency" and people will understand—even if they're just drawing from pop culture, they'll understand.
But every day as a caregiver carries that load of uncertainty. It's not as loud, so we can function, but it builds and builds. It ripples. It reminds me that it's not just my dad whose life could change or end at any moment—it's me. It's everyone.
Even when nothing is happening, so much is happening.
I spent 9 hours on the sidewalk outside the hospital, waiting. It was 90º out and miserable. No waiting room privileges because of COVID. Mum had to be the one person allowed in the ED with him because she knows his doctors and medical history better than I do.
One impossibly kind nurse got me back to see him for three minutes, which wasn't enough, but also was. I heard his voice. I saw his eyes open and smiling. I got to stroke his hair.
They kept telling us he was going to move to the hospital proper, where he'd be allowed two visitors, but when they finally did move him, four hours after that initial, tantalizing announcement, visiting hours were over. I had to stay outside.
I'm paying a lot of attention to labyrinths this year. I'd already been outside the hospital for two hours when I went to move the car and realized I'd been sitting twenty feet away from this:
I've stopped being surprised by this sort of stuff. I just start laughing and saying "Okay, OKAY I get it" to no one in particular.
I walked it when the sun finally went down and the temperature dropped enough to move in.
In ten minutes I'm going to drive back to Ventura to pick him up and bring him home, apparently no worse for wear. No stroke, no heart attack, just…age. Heat. Dehydration. Blood pressure. Who knows. And this makes me feel relieved and grateful and exhausted and also so angry. Because even if he's fine, we're left carrying the weight of how it could've gone. These pendulum swings of possibility.
I'm left remembering his teeth in his hat on the floor of the car, riding down the highway with us on our way to the unknown.