Hi everyone!
I'm back from a frankly ridiculous month of touring across the Midwest and down the East Coast, which means it's time to announce the dates for Leg 2 of the 100 Demon Dialogues Tour. But first, some stats about Leg 1: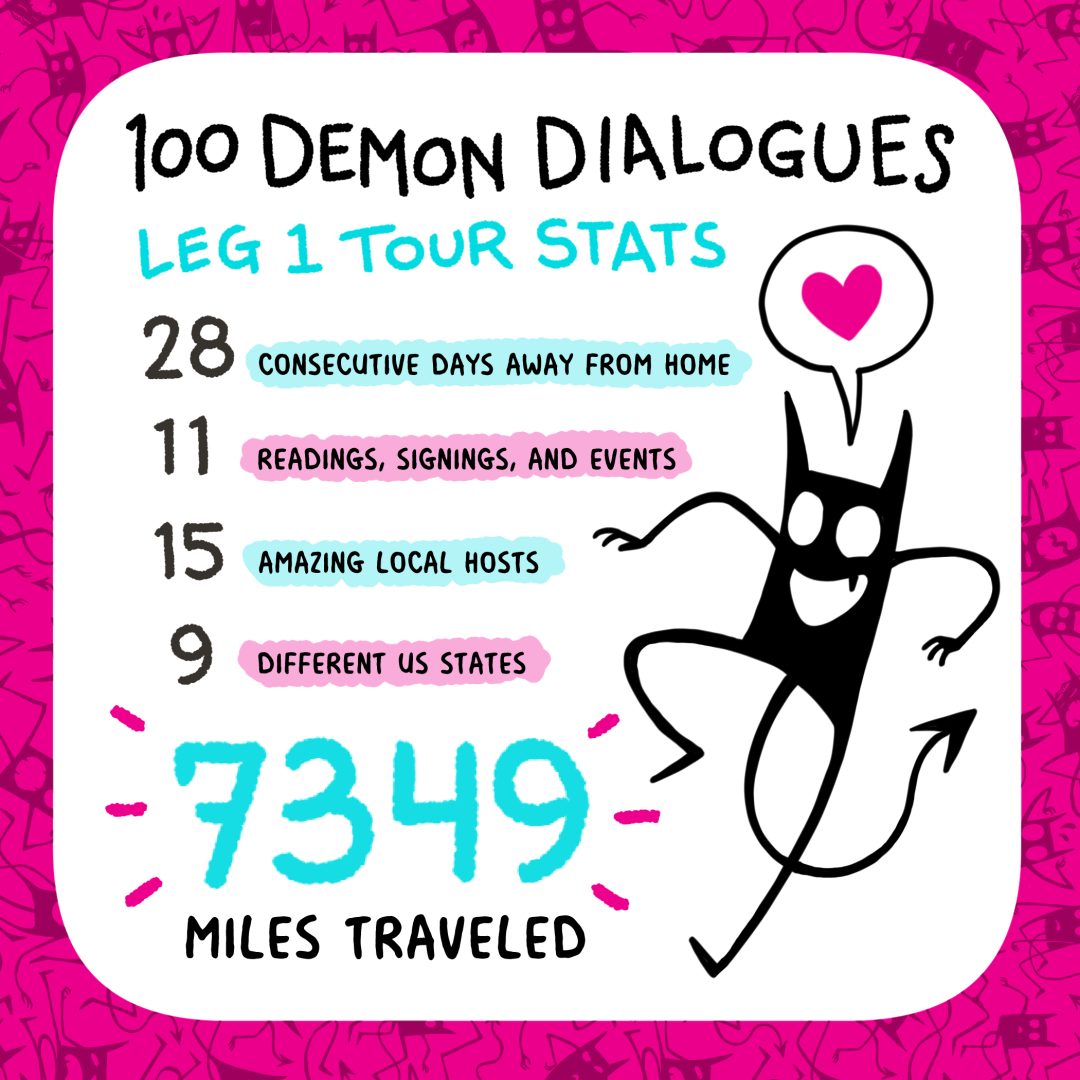 PRETTY HECKIN' COOL, RIGHT? I feel very accomplished. Also very tired. Turns out moving house every 1.8 days will do that to you. Check out these lovely smiling faces from the many bookstores, comic shops, and venues I visited in June: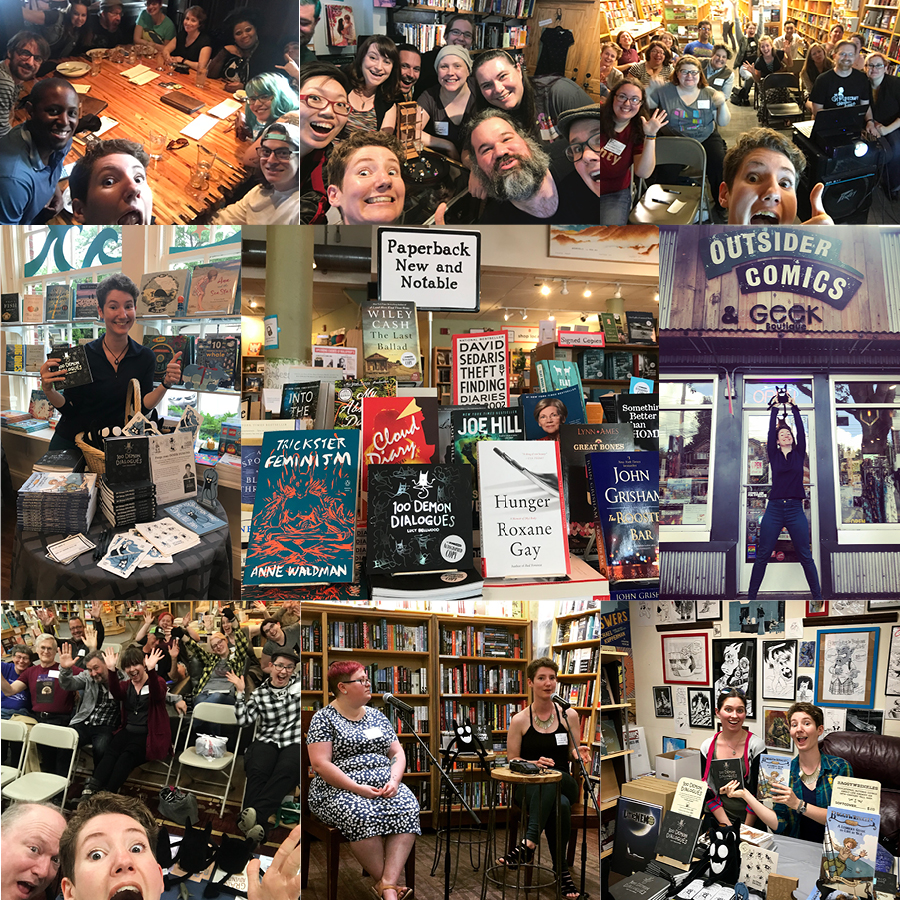 I was especially grateful to how many people participated in my experimental Guest Book idea, where folks filled out name tags about what their demons said to them. Here's a selection: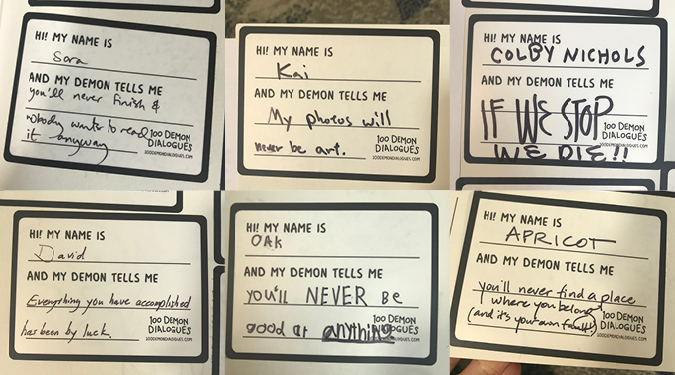 Even though the resultant volume is pretty heavy reading, my hope is that people found it helpful to see visual proof that they weren't alone in their fears. We can get through this together.
If you're on the West Coast or hanging around the Southwest, I've got a slew of stops for the next few months right here (also a bonus visit to the UK and back to the East Coast for a couple comics festivals):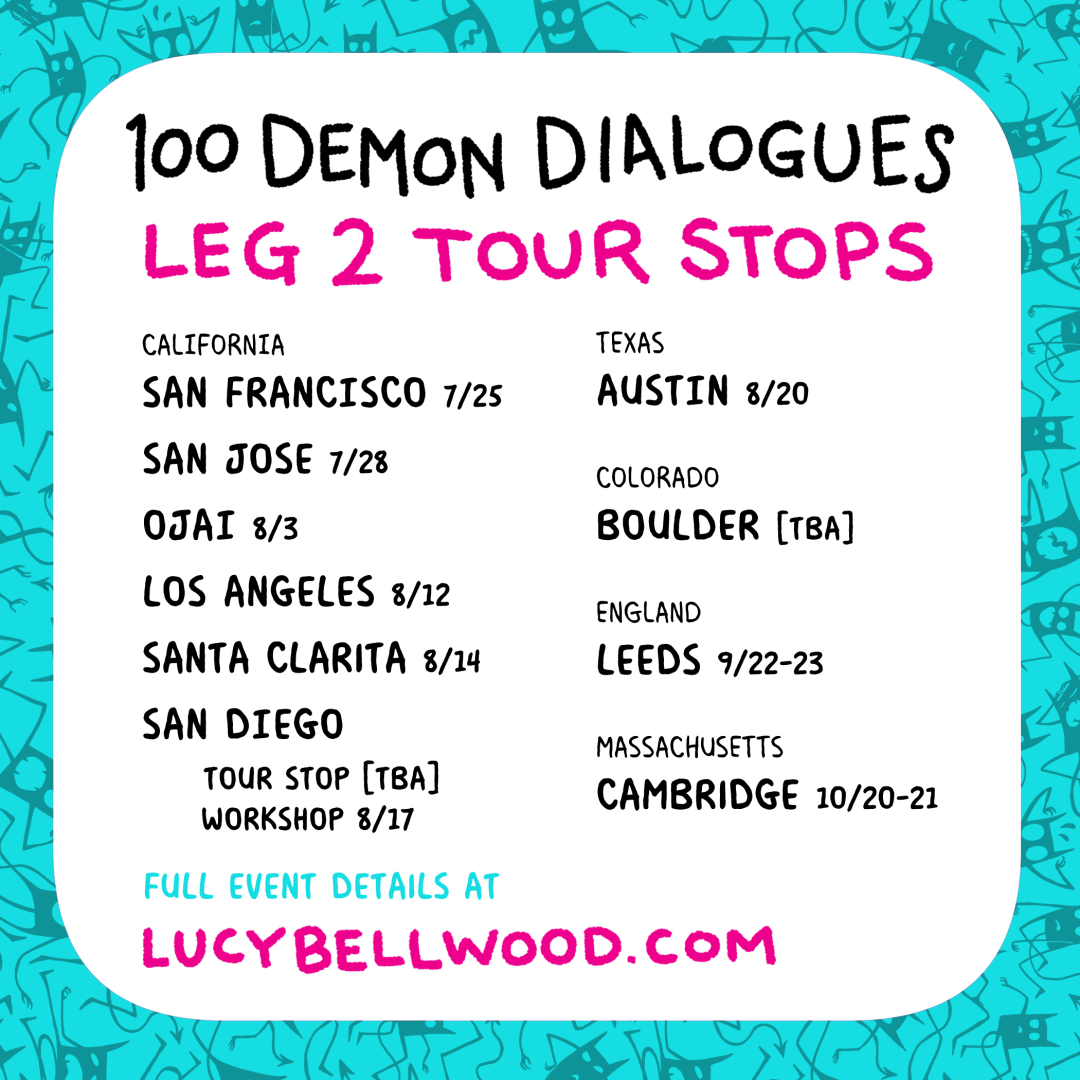 Here are those stops with RSVP links, in case you'd like to invite any local friends to tag along:
826 Valencia's Pirate Supply Store (with special guests Rose Eveleth, Molly McLeod, and Anxy Magazine) – 6:30-9pm, July 25th, San Francisco, CA
Local Color – 6:30pm, July 28th, San Jose, CA (followed by Mighty Mike McGee's Spelling Bee/r!)
Bart's Books (Hometown Shindig, come meet my adorable parents) – 7-9:30pm, August 3rd, Ojai, CA
Other Books – 6-8:30pm, August 12th, Los Angeles, CA
[Venue Forthcoming] – August 16th, San Diego, CA
San Diego Writers, Ink: Generative Demon Workshop – [Event Page Up Soon], August 17th, San Diego, CA
BookPeople – August 20th, 7pm, Austin, TX
[Colorado: TBA for Boulder/Denver]
Thought Bubble Festival – September 22nd & 23rd, Leeds, England
MICE – October 20th & 21st, Cambridge, MA
Thanks for keeping up with this wild and crazy endeavor! I'm looking forward to visiting some new places and returning to old haunts over the next few months.
A note on actually PURCHASING copies of 100 Demon Dialogues:
Due to Some Nonsense, the official in-store release date for 100 Demon Dialogues got pushed out to July 19th (although I heard some comic shops got their copies this week). If you'd like to encourage friends and family to buy a copy in the meantime, you can get both soft and hardcover editions (and Demon Plushies, stickers, postcards, and prints) from my own online shop. This is actually the best place to send folks, because more of the profit goes back into supporting my work, but I also want everyone to be able to get the book from their local shops if they so choose. Keep your eyes out next week for wider availability in stores!
Hope to see you on the road,
L