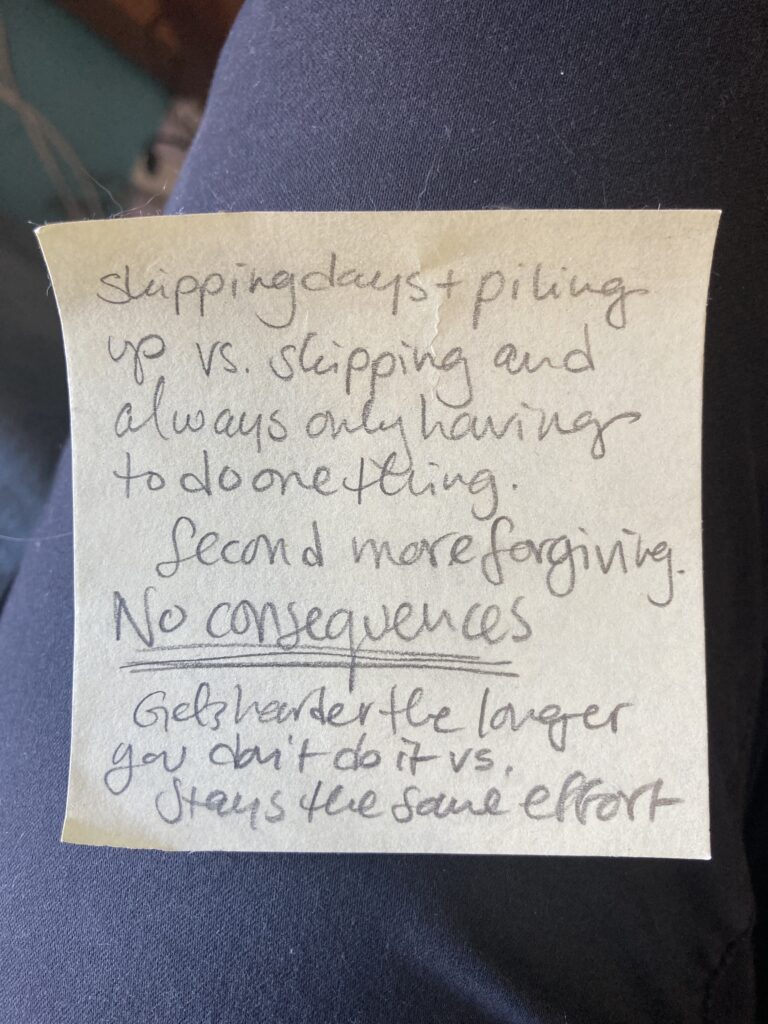 Historically, when I've done daily drawing projects like the 100 Day Project and Inktober, I've felt strongly about starting on a set day and finishing on a set day. It's often built into the challenge itself (a given calendar month, or a collectively-accountable longer start and end date), so I guess it makes sense. If I miss a day, I do two entries the following day to catch up. Miss two days? Do three entries on the third day.
I've always prided myself on this rigorous adherence to rhythm. I'm someone who gets shit done. Even if I fall behind along the way, I will finish on time. It becomes a pageant designed to placate my completionist, perfectionist ego.
But it also means that the more time I'm away from a practice, the more stressful the task of returning becomes. The work piles up in drifts. I feel more and more anxious. More daunted. More overwhelmed.
As far back as 2016 I was busy chewing on the act of returning as the backbone of a practice, rather than any tangible output that might stem from it. Having a creative practice or a yoga practice or a whatever-kind-of-practice is less about the times when I've been in the habit of drawing in my sketchbook or going to yoga every week. It's about the times when I haven't been going and then choose to return.
[Obligatory link to Fish, because it's all about returning. I didn't read for the first time until 2018, but it's definitely impacted my thinking here.]
I wrote this post-it note long before I started drawing Seacritters, when I still lived in Portland and was doing a lot of very different things with my life, but I think it's more applicable than ever.
I decided at the start of this graphic novel project that I could reliably rough out two pages a day. It takes me about an hour per page, and I can manage to spend 2-4 hours at the studio each day. Of course I've already missed days in the last few months of starting work on the book. I got sick. I threw a disc out in my back. I took a road trip. I was just too tired to work.
And then on top of that there's the fact that a comics script doesn't always translate neatly to the illustrated page! Sometimes pages end up needing to be split in two. Sequences expand and contract like lungs.
And so I feel myself working at a deficit again. The anxiety ratchets up and I worry that my original estimate of when the book will be done will become less and less feasible over time. I push myself to rough out three, four, five pages a day when I do get back to work. To catch up. To buy myself time.
What if I stepped away from something and the pressure to return didn't ratchet up with each passing day? What if I allowed myself the right to return knowing that the expectation will be exactly same as it's always been? Returning is always hard. Why am I making it harder? When I return, I don't have to draw sixteen pages in a single day. I just have to draw two pages.
I always only have to draw two pages.
(So much of this process is just trying to build a system that tells my brain I'm okay.)