News Item #1: I'M IN CANADA! As promised, I'll be tabling at the first ever Vancouver Comic Arts Festival tomorrow and Sunday at the Roundhouse Mews in downtown Vancouver, B.C. I've made a handy map so none of you is in the least bit confused about where I'll be located.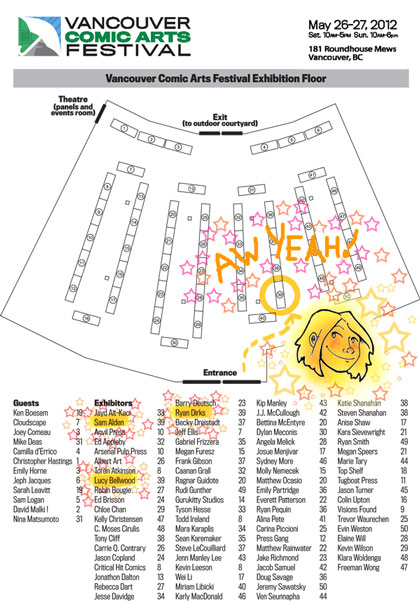 My fabulous tablemates are Sam Alden and Ryan Dirks, and we'll be flanked by The Shanahan Siblings and Tony Cliff! I'm super thrilled to be seated next to such a bundle of talent. There are a load of other exhibitors (90 in total) and several panels to check out, so stop by and say "Hello."
Did I mention it's FREE?
New Item #2: I have been seriously rubbish at making sure this blog stays updated with all the Kickstarter news of the last few weeks, but I promise there's a big post coming up with all the juicy gossip. In brief, I managed to graduate without falling on my face, I've spent the past week addressing and shipping HUNDREDS of envelopes, and I'll be reprinting True Believer (already?!) next week!
That's all for now! I'll leave you with this extremely attractive portrait of me stapling the first limited edition copy at Gann Brothers printing last week.