An unexpected bit of Promotion on the blog today:
This collection of poems by Tara K. Shepersky features loads of full-page watercolor illustrations by me and gorgeous printing from our publisher, Bored Wolves. (You can even grab our first collaboration, Tell the Turning, as part of the campaign—not to mention a host of other goodies like postcards and special bookplates by calligrapher Amber D. Stoner.)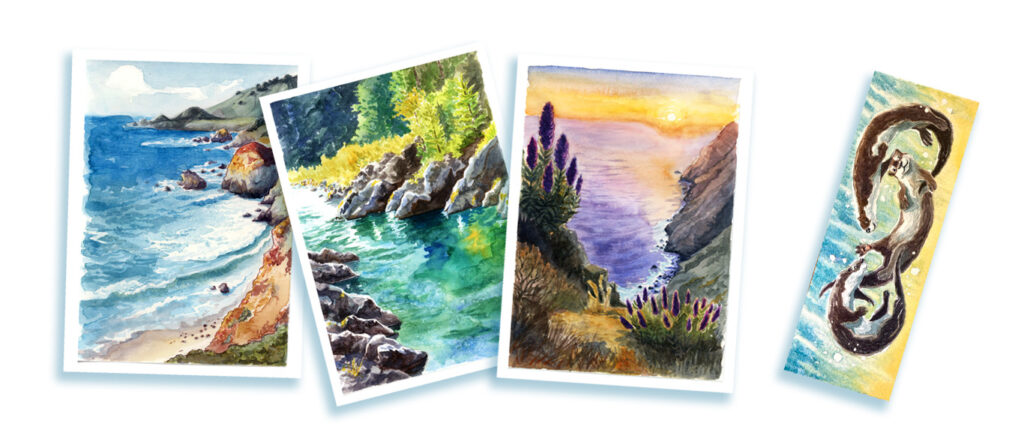 The book is a love letter to a particular river in Northern California, and to Tara's peregrinations from north to south along various West Coast highways and byways over the course of her lifetime. Her work is contemplative, rich, tender, and full of love. It's an honor to be in conversation with her words through watercolor. When describing the book, she writes:
Serpentine is blue and green: many shades, from cerulean to viridian to young-alder to haze-above-the-Pacific. She's soaked with sun, even when the particular poem takes place at night or in deep shade. Sunshine permeates. Blooming permeates. Celebration permeates. Refuge permeates. Serpentine reaches out to help you shuck your anxiety and displacement. I hope Serpentine will turn out to be a strong companion for you, as she has been, for a very long time, for me.
Once again: HERE'S THAT KICKSTARTER LINK. This is a short campaign (just two weeks!) so I'll be writing about it again with some more watercolor work before things wrap up.