This is it, everyone! It's Day Seven of Inner Critic Investigation Week, the writing prompt series I've been collaborating on with writing coach Deb Norton.
The rules are as follows:
Get a pen and a sheet of paper.
Set a timer for six minutes.
WRITE. Ask your Inner Critic the question and find out what they have to say. Keep your pen moving, even if you're writing lies or "Blah blah blah" over and over.
Our seventh and final prompt is: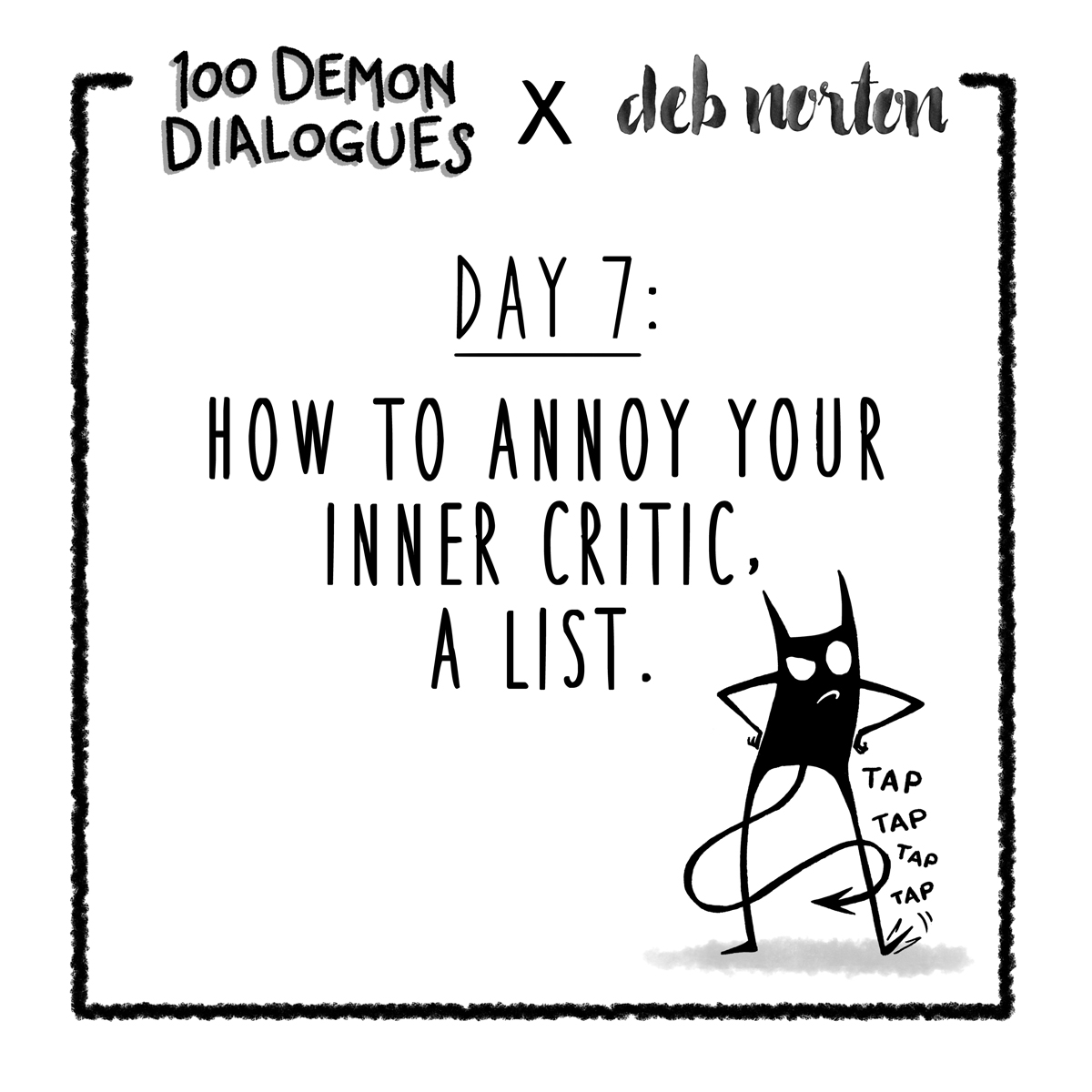 By now you've probably got a pretty good idea of what your Inner Critic doesn't like. What happens if you deliberately try to push their buttons? Make a list of everything you can think of that will make your Critic hoppin' mad. Maybe it's doing a deliberately horrible drawing. Maybe it's singing loudly in the shower when that voice inside is screaming at you to be quiet because the neighbors will judge you. Maybe it's eating a whole pizza in one sitting. There are no wrong answers, just list as many things as you can think of.
I'd love to do a round-up post next week with some anonymous entries from various people's writing exercises. If you'd be willing to share, email me some excerpts at lucypcbellwood@gmail.com, or leave 'em in the comments below.
Thank you so much for following along with this experiment! If you'd like to learn more about Deb's work, check out her website or buy a copy of Part Wild: a Writer's Guide to Harnessing the Creative Power of Resistance. You can also listen to the podcast we recorded about Inner Critics and the creative process. The little character you see featured in all these prompts is my Inner Critic, who I got to know over the course of drawing 100 comics in 100 days. You can read those right here.