I read something this week that really ticked me off.
I've been building my page on Goodreads as I gear up to put 100 Demon Dialogues into the world, which partly means leaving lots of reviews for creators whose work I admire. If you follow me on Patreon you'll know Deb Norton because I interviewed her for my unofficial podcast, but just in case you don't she's got an amazing book called Part Wild: a Writer's Guide to Harnessing the Creative Power of Resistance. She was also my writing mentor in high school, and I owe her an enormous debt for her impact on my creative development.
Anyway, I realize reading reviews on Goodreads is basically like reading the comments anywhere else on the internet (DANGER, DANGER), but after writing my review for Part Wild, I idly scrolled down the page to see what else people had said about the book. And then I stumbled on the following sentence:
…if you are really finding it that hard to write and need to use all these prompts and tips, then it probably means that writing is not for you – find something else to do.
You know Ghost Rider? He's that comic book character who's basically a flaming skeleton on a motorbike. That's what I turned into directly after reading this sentence: just a skull on fire in road leathers doing 90 down a highway screaming "FUCK OFFFFFFFFFF."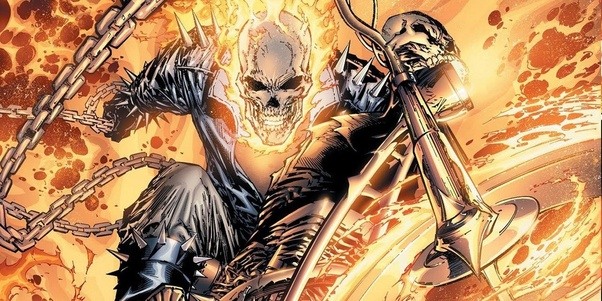 Whenever I react this violently to something it's usually because I fear there's a grain of truth in it.
This attitude digs at the root of something that's deeply entrenched in our cultural beliefs about what creativity "is" (the answer, of course, is many things—it's a paradox—but we'll get into that later). We're taught to think that, for creative people, making things is easy. You know you're "Creative" when you're able to sit down and art flows from your fingertips like water from a mountain spring. The Muse appears, the Art happens, and there you are like some sort of divine lightning rod just channeling your Gift into the world.
I'm as much a fan of being in a flow state as the next guy, but I also think this is a dangerous load of hooey.
Like, what does this mean, really? That experiencing any type of resistance or challenge means you should just give up and go do something else? This is not a growth mindset. It is small and constrained and petty and miserable and OOOH IT MAKES ME SO MAD.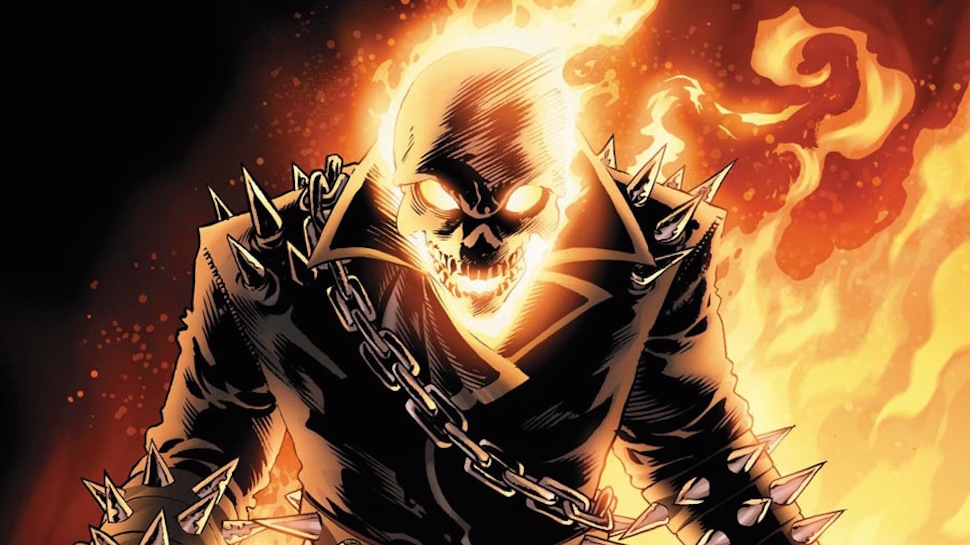 Okay, okay. I'm under control. I can do this.
Do I worry that I'm not cut out to be an artist (or a writer, or a small business owner, or a public speaker, or a…) whenever the work feels like pulling teeth? Of course I do. But lately I've been thinking a lot about this great talk Frank Chimero gave about doing things "the long, hard, stupid way," and it always makes me feel a lot better.
Frank was struggling writing his first book, and then judging himself for struggling because clearly it meant he was doing something "wrong." (This is something I'm very guilty of.) But then he shifted his perspective and recognized that this less efficient methodology actually defined his creative process. Accepting the quirks of his personal practice allowed him to relax into it. (Pair this with Chuck Wendig's excellent advice to "embrace the joy of the forbidden.")
I am constantly reminding myself that experiencing resistance, strife, doubt, and complexity mean I am on the right track. If there's one thing I've learned over the course of my career it's that these feelings are normal and they do not go away. In fact, if you're experiencing a total absence of those feelings it probably means you're not taking any risks at all, which means you're not growing, which means it's time to get back in the ring.
Okay, next paradox:
I have complex feelings about Tim Ferriss, a massively successful technology-culture-productivity-type entrepreneur, but I was interested to read about his take on overcoming these mental traps:
What would this look like if it were easy? is such a lovely and deceptively leveraged question. It's easy to convince yourself that things need to be hard, that if you're not redlining, you're not trying hard enough. This leads us to look for paths of most resistance, creating unnecessary hardship in the process.
But what happens if we frame things in terms of elegance instead of strain? In doing so, we sometimes find incredible results with ease instead of stress. Sometimes, we "solve" the problem by simply rewording it.
So now we fight, right? The Long, Hard, Stupid Way vs. The Elegant, Easy, Simple Way.
But I don't actually think these attitudes are opposites. There's the inherent challenge of making creative work, but then there's the self-judgement of that challenge—and that's what Ferriss's question can help us get around.
Rather than getting mad at ourselves for being a skull on fire, maybe we just accept that being on fire is sometimes a normal part of the creative process. That way whenever we burst into flames and/or have a case of the brain weasels we don't have to worry that there's something wrong with us. We can accept the weasels as part of the process and get on with doing normal things, like riding other wheeled contraptions, coming up with new ideas, and continuing to move forward with the work.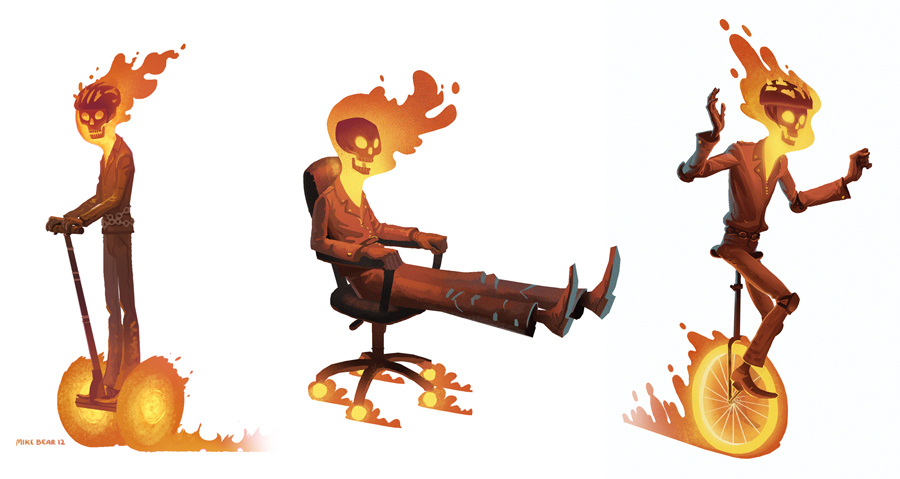 I think I'm gonna leave it at that.
***
(A note on credit: the Ghost Riders—or should that be Ghosts Rider?—in this post were illustrated by: Marc Silvestri, John Cassaday, and Mike Bear. Thanks, fellas.)